Comes complete with 50 feet of flexible tubing, Three ceramic nozzles and Four metering jets to control the amount of sand being drawn into the water spray.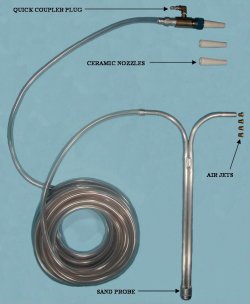 The Quick Coupler Plug inserts into the Quick Coupler Socket on the end of the wand where the spray nozzle would normally go.
The Handle Probe is pushed into the sand supply
SB-100
WET ABRASIVE SANDBLASTER USES SILICA SAND
Grade 20 to 30 silica sand is used for jobs such as removing rust or masonry buildup from metal surfaces and for general cleaning.
Grade 30 to 65 silica sand is for jobs such as smooth sanding of painted wood, masonry or metal surfaces. removes graffiti or paint from brick and concrete surfaces.
SANDBLASTER MODEL NUMBERS refer to the nozzle size the pressure washer would normally use.
Example -35
Would be a 3.5 nozzle size
SB-100-35
SB-100-40
SB-100-45
SB-100-50
SB-100-55
SB-100-60
SB-100-65
SB-100-70
SB-100-75
SB-100-80
SB-100-90
PRICE EA. $208.00